media
This video showcases patient testimonials about Dr. Stella Seto at Balance Medical.
Web Article: Inside Vancouver Featured Vancouverite: Dr. Stella Seto, ND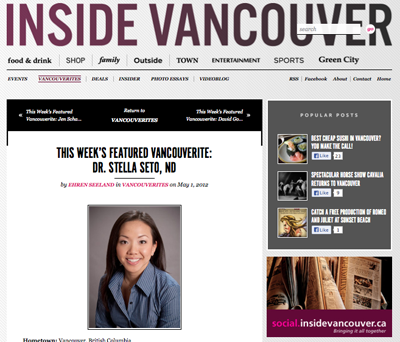 testimonials
"The best naturopath in Vancouver is Dr. Stella Seto at Alliance Wellness and at Balance Medical!
 She is very knowledgeable and has really helped me with my IBS and my low back/neck pain. I felt she took the time to listen to my story and figure out what was wrong.
 After years of pain I can now run again and not worry about having to find a bathroom during races or feeling bloated all the time." -Melissa L.
"I agree, Dr. Stella Seto is the best naturopath in Vancouver. I now visit her at Balance Medical Center. Not only has she helped me get back into my best health, she also has helped with my anxiety and internal struggles. She really listens and understands before making any recommendations. I have referred several friends/family members to her and they all love her! If you are looking for a naturopath in Vancouver, book an appointment, with Dr. Seto. I leave her office each time feeling inspired and rejuvenated!" - Lauren W.
"Dr. Seto really helped me get over my back and hip pain as well as my eczema."
"Dr. Seto is amazing and I highly recommend her. Since seeing her over a year ago, I have referred several people and they all agree. She is very knowledgeable and extremely helpful. Dr. Seto really takes the time to listen which is very important. One of the most notable incidents was when my younger sister was struggling with anxiety; when all other doctors were pointing to drug remedies to help her, Dr. Seto referred her to a CBT specialist which was the one thing that helped her overcome it most. Dr. Seto really makes a difference and I always leave her office feeling inspired and happy."
"I've been seeing Dr. Seto for 18 months and have been extremely impressed with her depth of knowledge, ability to explain the benefits of treatments and supplements. She is always very friendly and helpful. In addition she was able to relieve some long-standing tension in my left should 3 years after surgery. As a highly competitive triathlete, ultrarunner and adventure racer / chaser keeping my body running as best it can is of utmost importance to me. I credit Dr. Seto with helping ensure that I am able to compete and my desired level."